"When you're a rich and famous RPG maker, always remember who made your first title screen. I MADE YOU! YOU WERE NOTHING!"
—Typhoon
News Archive


November 10th, 2013
The tendrils of Halloween's presence linger still into November! We have a colored version of Shiei's line art by Helrouis, and a pixel-art offering from our very own King-sama. Enjoy!
October 31st, 2013
Happy Halloween!
September 1st, 2013
Here's a cutscene that was made for an old forum RPG, By Sword and Spell, by Guile and Gun (S2G2 for short). I had planned to do multiple such cutscenes as the plot progressed (reflecting the decisions the players had made), but sadly, it was not to be. Still thought it would be fun to upload this one, and offer a glimpse into a tale buried under the sands of time. Hope you enjoy, and many thanks to X-Calibar who once again recorded the video!
July 6th, 2013
Love and War: Act I is now finally complete!
Ten months after the original release, Act I is finally at 100%. All of the old picture cutscenes have been replaced, and a few new ones have been added, too. Some minor bugs have been fixed, a few battles have been tweaked for difficulty, and there's also a new intro available for your perusal, featuring new artwork from King-sama! Though I have no hard numbers to back this up, I think Act I may have the most cutscene artwork of any RM RPG. This is really thanks to the efforts of Reirei18 and King-sama, but I can't help but feel proud of this (potentially inaccurate!) fact.
Furthermore, after many months of toil and trouble, revision and editing, I present to you the official trailer for Act I! This trailer would not have been possible without the tireless efforts of LAW friend X-Calibar, who essentially turned my notes into the video you see before you. Many, many thanks, X-Calibar! Thanks must also go to King-sama, who provides more of his patented fabulous artwork. Wonderful work, King!
In any case I hope you enjoy, and I look forward to receiving any and all feedback. This one's for you, LAWyers and LAWyettes!
May 30th, 2013
I just thought I'd make a note here—the remainder of the picture cutscenes for Act I are now in my possession, and that means the release of the "Complete" version of Act I is going to be happening in the near future. Hoping to have it ready soon! Of course, now is the time if you have any last minute suggestions: additions to Act I, bugs to fix, difficulties to tweak: lemme know as soon as possible!
April 30th, 2013
The indefatigable Professor Q has begun work on a Love and War fanfic! In fact he's already halfway through his story, which essentially follows his interpretation on what will happen in Act II and beyond. You can view it here or more directly at the LAW forum here. Please do consider checking it out, and if you do, drop the good Professor a line and let him know what you think!
March 15th, 2013
Here's the pencil sketch version of the winner of the "Vote for your Favorite II" contest, as drawn by Shmeckie, featuring Henrik and General Stokel! Hopefully we'll get it colored one of these days.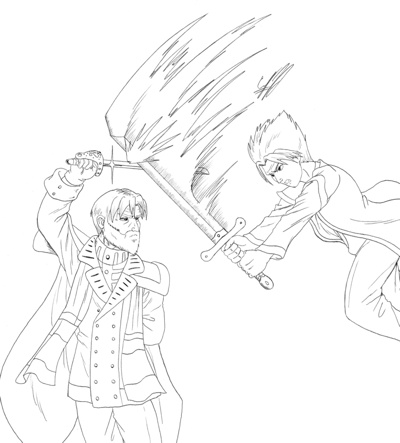 February 14th, 2013
Happy Valentine's Day! I hope this February 14th finds you all well.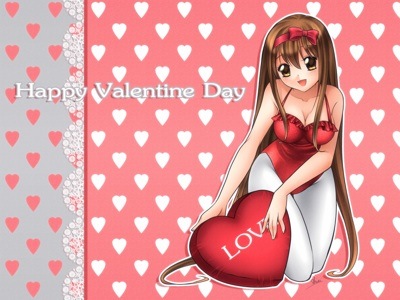 Last modified on 2020/11/29.